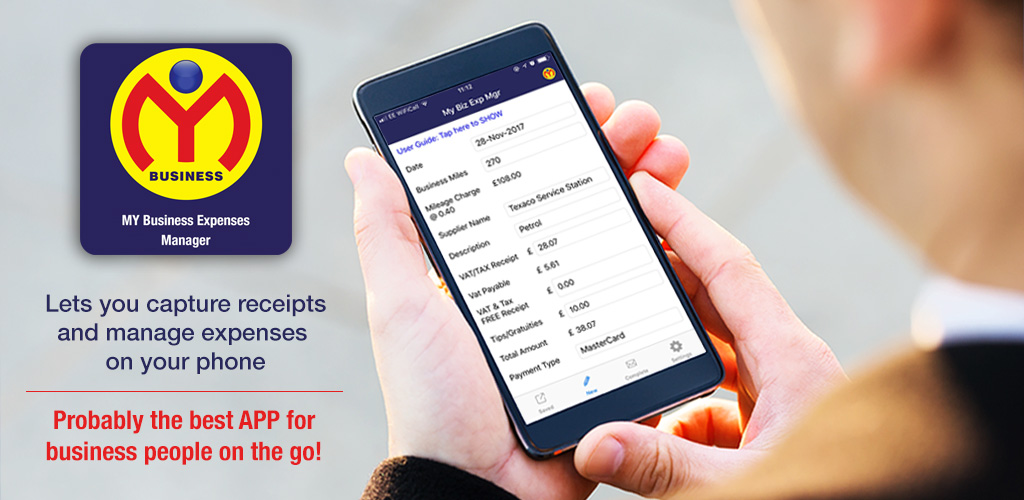 Overview
My Business Expenses Manager is an intuitive, user friendly mobile app for iOS and Android, also, It's possibly the best 'Business Manager App' on the market today!
For a relatively low priced App it certainly punches above its weight with the amount of built-in functionality it has.
Once the relevant setup information such as country, name opening mileage tax rate and mileage charge — if applicable is saved in 'SETTINGS' you simply tap 'NEW' and you're ready to go. This takes about -15 seconds!
'My business Expenses Manager' does what it says and enables business men and women to control and manage their daily Business Expenses in today's busy environment. It really is the perfect partner for all business men and women on the go.
So what it does it do for you?
It automatically calculates:-
Business mileage totals.
Private mileage totals.
Mileage that's charged for at the rate set by you.
Total Mileage for expense period.
Provides running costs per vehicle.
Registration / Licence plate ID for use in different vehicles.
Value Added Tax VAT - Europe.
State or Local Tax rates edit facility, for USA and other Countries throughout the world.
Built in multi currency compatibility.
Create real time expense reports.
Easy receipt capture, allows you to take photos of receipts, confirms details and auto-links them to appropriate expenses details.
Date stamps each receipt.
Lists multiple payment methods and credit card choices (editable).
Calculates tips and gratuities.
Easily reconcile credit card transactions.
Notes section allows you to add more information about the expense, if required.
All expenses are stored in a saved folder where they can be checked and edited prior to completion and export.
Completed expense can be either bulk exported, or sent individually.
Reports 1. Export as a .pdf with 'date linked 'photo receipts attached for ease of printing.
Reports 2. Export as a csv file with no photo receipts, this enables accounts dept easy spreadsheet integration.
Search and export expenses by date, or by supplier name.
Use Date fields to export expense data within a given calendar range.
Backup and restore data settings for easy integration with new upgrades.
Bulk erase of 'sent' data after confirmed export in both .pdf/csv format.
Create a list of your suppliers or contact names.
Create a description list of services from any supplier or service provider.
The 'notes' section allows you to add a brief description of a meeting or details of service from a supplier etc.
The built in User Guide at the top of each screen will help you through any problem that you may encounter.

For security reasons, the only bit of personal information saved within the App is your name, so if you unfortunately lose your phone, no one has access to credit card details etc, (unless they are stored elsewhere on your phone).

So, If you want to get ahead — Get 'THE' App.

'My Business Expenses Manager' IS 'The Business App for Business People'